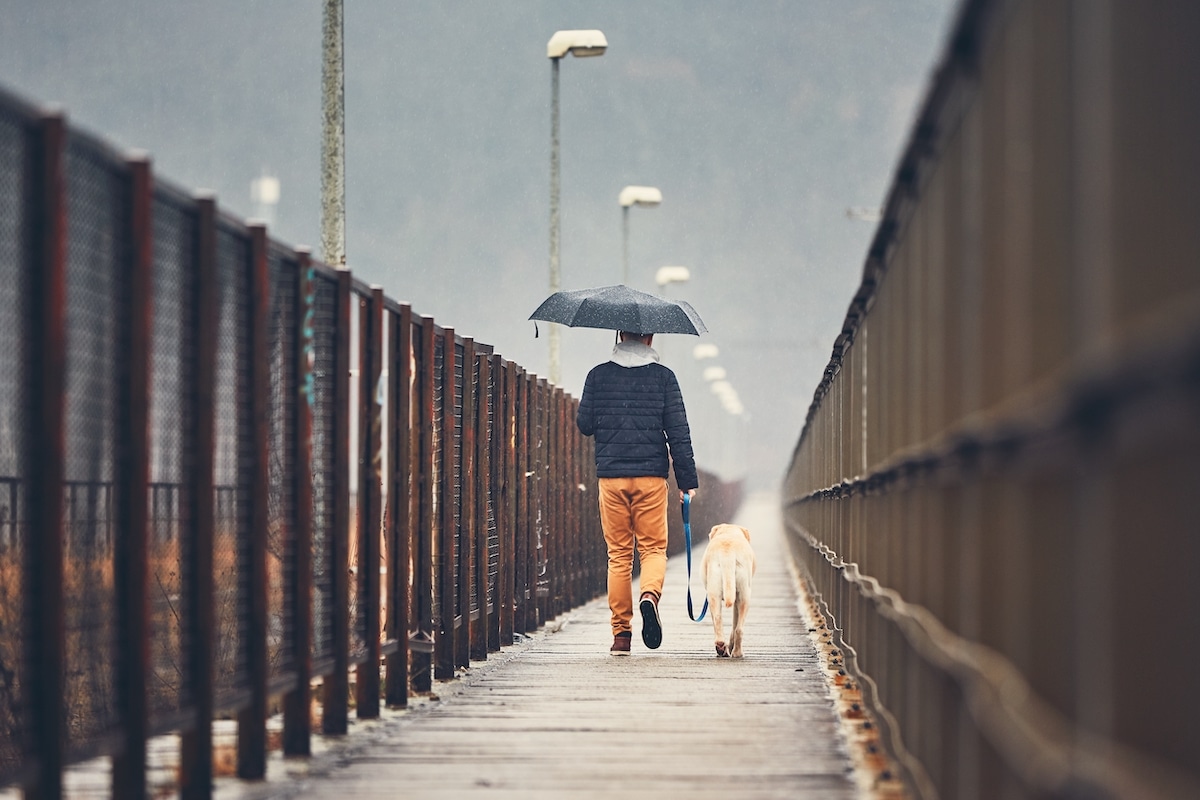 Ah the new year, a time for new year's resolutions and new plans. Can your dog help keep your new year's resolution this year? You made big promises to yourselves and to others, about giving up this, and starting a new that… convincing ourselves that this time things will be different: that we'll actually give up those vices and live out a healthier lifestyle.
But falling back into old habits is as easy as reaching for the last slice of pizza, or settling into the couch for a movie instead of hanging out with new friends…
What we need is an accountability partner. You know – the friendly kind, with big wet eyes, and a slobbery smile – a furry pal who's keen for any kind of adventure.


(https://giphy.com/gifs/mrw-crush-name-FnsbzAybylCs8)

That's right – we need our dog!
How can your dog help keep your new year's resolution?
Your accountability partner
While there are tons of ways to get and stay motivated in keeping your New Year's Resolutions, you may not have considered the impact your dog can have on helping you!

While your pup won't stop you from that extra helping of ice cream (heck, they'll probably even beg you for some), dogs make great accountability partners in helping you keep your New Year's Resolutions, such as:
Weightloss
Stress relief
Meeting new people
Maintaining a routine
#1 Dogs help you lose weight
It's a safe bet that at least one of your resolutions involves getting more exercise. What better way to burn some extra calories than alongside your favourite furry companion? In fact, a study done by the Wellness Institute in Chicago revealed that both pet owners and their dogs lost weight over a period of one year by exercising together. This study concluded that pets offer consistent social-support, much like a human exercise partner, but without any negative social influence.

Perhaps it's just your pupper-pal that needs to shed some extra pounds? If so, and you're struggling to find the time to be their 'weightloss coach', contact Poochike Adventures today! We have tons of dog walking and dog hiking routes throughout Vancouver that will keep your pup stimulated, active, and healthy!
#2 Dogs help relieve your stress and anxiety
When you've resolved to lower your stress levels, you can turn to meditation and yoga, certainly, but your dog is also a key part of lowering stress and anxiety. No matter the day you've had, a couple of puppy kisses and slobbery snuggles are bound to brighten your mood! From sensory stress relief to comforting companionship, dogs are proven to help reduce stress in humans, and their presence will help you keep your New Year's Resolution to 'keep calm and carry on.'
#3 Dogs help you meet new friends
If your resolution has you set to get more involved in your community and get you meeting new people, a dog will help immensely with this – especially if you're new to Vancouver! Take your pup to an off-leash dog park, and ride his coattails as he jumps right into the action and effortlessly approaches new dogs and their owners. All you have to do is smile and say hi!

#4 Dogs help you maintain a routine
Sticking to your resolutions means keeping a routine, and owning a dog means you're already familiar with this! Daily feeding, dog walking, and grooming schedules are all a part of everyday life with your dog. So, take a page out of this book when it comes to your own New Year's Resolutions. The results you're looking for won't happen overnight, but with time, patience and a consistent routine, you'll begin to see the positive changes you're striving for!
Solidify your New Year's Resolutions this year
Good luck with your resolutions this year, friend! We know you can do it, and we know your dog will help you! 😉
For even more great info, read this excellent blog at Rover.com
Are you looking for a Vancouver dog walker? Contact Poochike Adventures today to keep your pup active and healthy with dog pick-up/drop-off services and some super dog hikes throughout North Vancouver! Bark at Poochhike today!